Ethereum merge is complete
After years of development and delay, on September 15th, 2022, Ethereum – the second-largest cryptocurrency after bitcoin (BTC) – successfully "merged" from Proof-of-Work (PoW) to Proof-of-Stake (PoS), finally becoming a system that uses a great deal less energy. Ethereum changed to PoS when the network's Total Terminal Difficulty threshold – the difficulty of mining Ethereum blocks – hit 58750000000000000000000.
The idea that Ethereum would eventually make this switch was there from when it was launched in 2014. But how easy was it to switch one method of running a blockchain to another? Not at all easy; to understand the complexity of the mission, experts have compared it with "rebuilding the foundations of a skyscraper while it remains standing". The Merge required such complicated technological effort that many questioned whether it would even succeed. Talking to CoinDesk before the Merge was triggered, Justin Drake, a researcher at the non-profit Ethereum Foundation, said: "The metaphor that I use is this idea of switching out an engine from a running car… I like to think of it as kind of like the switch from gasoline to electric."
The developers of Ethereum celebrated the Merge by live-streaming the event – more than 41,000 community members joined Ether's developers on a YouTube "Ethereum Mainnet Merge Viewing Party". An announcement of the successful merge was also made by Ethereum's co-founder, Vitalik Buterin, on his official Twitter account. Drake also commented that "there's a part of me which hasn't completely realized that this is actually happening… I'm somewhat in denial, you know, because I've trained myself to just expect it to happen in the future."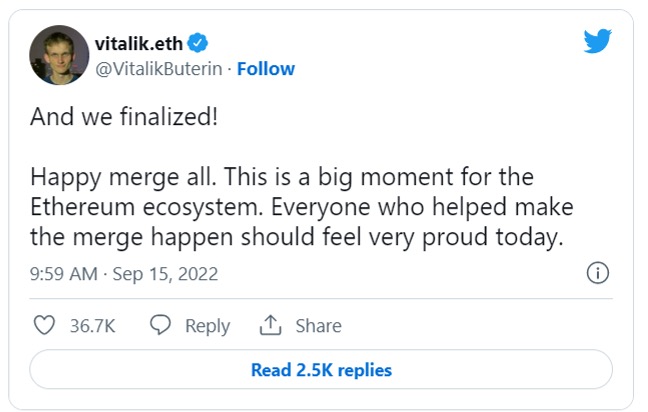 What to expect from the merge
How big is the payoff of such a merge? Of transitioning from a PoW to a PoS? In one word, the payoff is colossal. According to the Ethereum Foundation, in June, Ethereum was using as much electricity as The Netherlands or any other medium-sized country. However, per the foundation, with today's merge, Ethereum will go from consuming around 112 Terrawatt hours per year to consuming 99.9% less energy (approximately 0.01 Terawatt hours per year). In terms of how this will affect energy usage globally, as Drake pointed out, the switch would reduce worldwide electricity consumption by 0.2%.
Another big change that came with the Merge, involves Ethereum's massive army of mining volunteers. Because Ether's new process consumes very little power, it does away with mining completely. Cryptomining became less profitable following the crypto-crash in early 2022 and the increasing energy costs around the world. With today's developments, miners of Ethereum are now left seeking other ways to make a profit. Indeed, one crypto-miner commented: "I've got mixed feelings on The Merge. It's been an easy time for us miners just mining Ethereum, and now we'll have to switch to another coin. There's a lot of change." Similarly, the team at Prima Technologies, a Dubai-based mining company, started replacing their Ethereum GPU mining computers with machines deemed able to mine for Bitcoin. Ammar Lashkari, Prima Technologies' spokesperson commented that "It's tough, as no other Proof of Work currencies are as profitable as Ethereum," before adding "We're going to keep some of our Ethereum computers and start mining alternative coins but it will not be the same, so we're going to slowly diversify into Bitcoin mining." Ether's miners will now be replaced by validators.
Furthermore, the upgrade is also expected to make the blockchain more secure and scalable. Essentially, post-Merge, Ethereum's size of blocks will decrease, which will, then, also decrease the amount of data that nodes will need to process. As a result of the network's increased scalability, more transactions will be handled on a per-second basis, while maintaining high levels of security.
What's Next?
"This is the first step towards Ethereum being a very mature system, but there are still steps to go," said Vitalik Buterin. Of course, many things will need addressing, such as Ethereum's high fees and low speeds, but for now, Ethereum's developers will surely bask in the success of today's historic day.
Disclaimer: This article is not investment advice or an investment recommendation and should not be considered as such. The information above is not an invitation to trade and it does not guarantee or predict future performance. The investor is solely responsible for the risk of their decisions. The analysis and commentary presented do not include any consideration of your personal investment objectives, financial circumstances, or needs.