The United States Consumer Price Index (US CPI) is an index that is used to measure inflation by tracking changes in prices paid by consumers for a basket of goods and services in the United States. CPI adjustments reflect economic price changes. When the CPI rises, it indicates that the average price change over time has increased, whereas a decrease in CPI indicates a decrease in price change over time, thus a decrease in inflation rates.
What does higher data mean?
An increase in CPI is an indicator for high inflation rates, thus continuation of procedures to tighten the monetary policy in order to combat inflation. One of the most common methods followed by central banks worldwide to battle high inflation is raising interest rates.
Why do investors closely watch CPI data?
Investors in particular await this data release due to its high impact on markets including stocks, indices, currencies, and metals. When CPI data records higher than forecast, odds of hawkish signals rise designating hikes in interest rates. Expectations of raising interest rates create volatility in markets, where indices, stocks, shares and metals dip in descending waves, whereas USD starts its savagery against all other currencies.
Latest US CPI data release
On September 13th, the US Bureau of Labor Statistics released the monthly CPI for August 2022. The data released reflected an increase in inflation rates by 0.1% after stability in July. Despite a 10.6% decline in gasoline prices, American consumers had to pay more for a group of services and goods. Medical care services and healthcare insurance showed an increase of 0.8%, used cars prices rose by 0.1%, and new cars' prices gained 0.8%. Rent prices have also surged in August, as shelter rose 0.7% keeping overall inflation soaring high.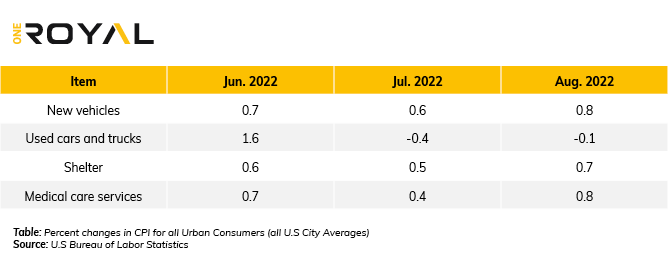 Amid the release of August's inflation data, indices starting shedding low, in an unusual pace. Wall Street ended Tuesday's trading session with collective losses, recording the largest losses in two years.
-Dow Jones index closed with losses of 4%.
-Nasdaq index closed with losses of 5%.
-The S&P500 index closed with losses of 4%.
Disclaimer: This article is not investment advice or an investment recommendation and should not be considered as such. The information above is not an invitation to trade and it does not guarantee or predict future performance. The investor is solely responsible for the risk of their decisions. The analysis and commentary presented do not include any consideration of your personal investment objectives, financial circumstances, or needs.