Amazon and Apple report record revenue and earnings amid high inflation
Amazon and Apple broke the trend among their Big Tech "rivals", which had all reported poor second-quarter numbers. Following Meta's gloomy Q2 report earlier this week, the two business giants reported better-than-expected earnings and revenue reports last night after the closing bell.
Amazon
Amazon (AMZN) gave an upbeat outlook for the remainder of the year after reporting better-than-anticipated Q2 revenue. Even though the growth was slower than at any other time in Amazon's history, revenue beat analysts' estimates of $119.09, coming in high at $121.23 billion, a 7% increase year on year. Furthermore, now that the YoY comparisons with the coronavirus-affected periods have passed, the company expects to go back to double-digit quarterly revenue growth.
"Amazon's strong 7 percent sales growth, 10 percent in North America alone, is due entirely to services growth such as AWS and advertising," Guru Hariharan, CEO of CommerceIQ and a former Amazon executive, commented. Indeed, Amazon's Web Services (AWS), the company's cloud computing division, reported revenues of $19.7 billion for the second quarter, beating the $19.56 billion estimate; similarly, Amazon's advertising revenue also outperformed, surging 18% to $8.76 billion.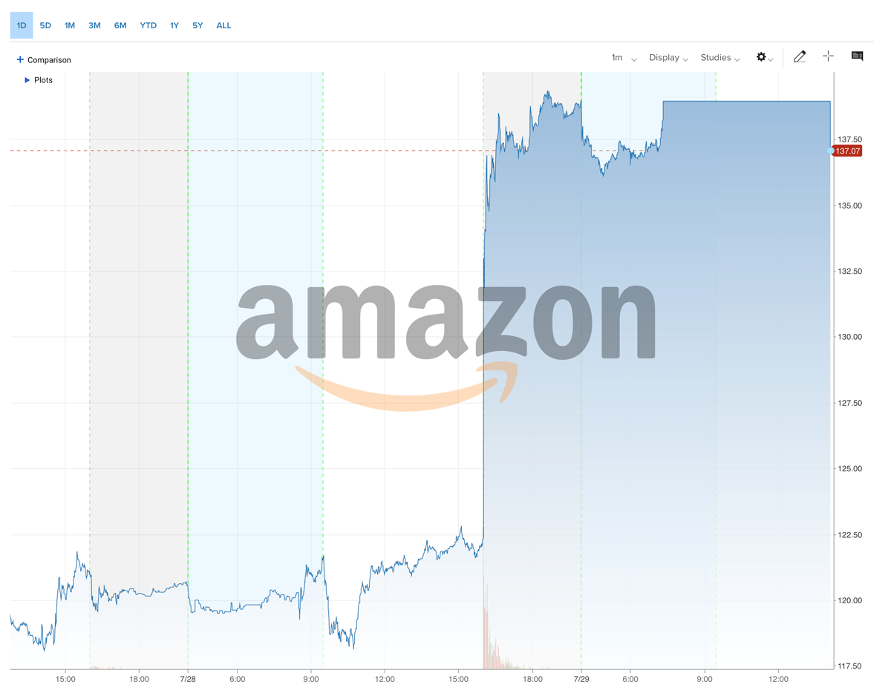 Following Amazon's earnings report, its shares climbed more than 14% in pre-market trading on Thursday, currently trading at $137.17 (at the time of writing). Even though the tech giant also reported a loss of 20 cents per share, it expects to post a third-quarter revenue increase of 13% to 17%, between $125 billion and $130 billion.
Apple
Even though Apple warned earlier this year that the third quarter would be rough, like Amazon, Apple Inc. (AAPL) also calmed investors' fears on Thursday. The tech company's fiscal third-quarter revenue and earnings beat Wall Street expectations both on the top and bottom lines. "This quarter has ultimately been a reflection of our resilience and our optimism," Chief Executive Officer, Tim Cook, stated to analysts, adding "As we look forward, we're clear-eyed about the uncertainty in the macro environment. Yet we remain ever focused on the same vision that has guided us from the beginning." Here are some of the key numbers from Apple's report:
• Revenue: $83 billion (estimate: $82.81 billion), up 2% year-over-year
• Earnings per share (EPS): $1.20 (estimate: $1.16) down 8% year-over-year
• iPhone revenue: $40.67 billion (estimate: $38.33 billion) up 3% year-over-year
• iPad revenue: $7.22 billion (estimate: $6.94 billion), down 2% year-over-year
• Mac revenue: $7.38 billion (estimate: $8.70 billion), down 10% year-over-year
• Services revenue: $19.60 billion (estimate: $19.70 billion), up 12% year-over-year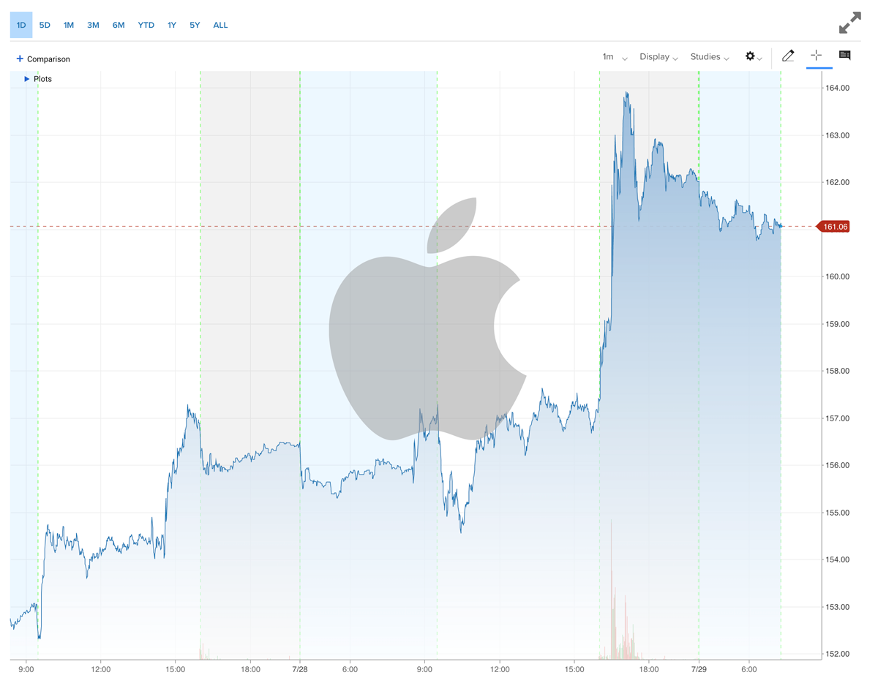 Apple's shares gained as much as 3% in after-hours, currently trading at $161.17. In his statement, Luca Maestri, Apple's Chief Financial Officer noted that: "Our June quarter results continued to demonstrate our ability to manage our business effectively despite the challenging operating environment. We set a June quarter revenue record and our installed base of active devices reached an all-time high in every geographic segment and product category."
What's next for the tech leader? In a few months, the company is set to launch both its iPhone 14 line and the Apple Watch Series 8. Even if their launch will not have much of an impact on the company's Q4 profits, it is anticipated that they will boost Apple's Q1 2021 performance. Talking to CNBC's Steve Kovach, Apple CEO Tim Cook said that "In terms of an outlook in the aggregate, we expect revenue to accelerate in the September quarter despite seeing some pockets of softness."
Disclaimer: This article is not investment advice or an investment recommendation and should not be considered as such. The information above is not an invitation to trade and it does not guarantee or predict future performance. The investor is solely responsible for the risk of their decisions. The analysis and commentary presented do not include any consideration of your personal investment objectives, financial circumstances, or needs.